The most miserable 3 months of the year are Dec 10 - Mar 8th.
Why, you may ask? Because for those 3 months Colby can sit and brag that I am 2 years older than him. This year has been especially fun because I turned 30! So he brags what an old lady he is married too. And to think I have to put up with this for 1 whole year! dah!
It was kind of lame because Colby had to work on his birthday. But his mom and I and the kids surprised him at work with balloons and a Jamba. We were only able to visit for a few minutes as he was booked with patients. I begged him to ask to leave the last couple hours open so he could come home and spend some family time on his birthday but to no avail. He didn't get home till 730ish.
So we forced his dinner down him quickly to we could get to the presents.
His mother bought Colby a dry spine that he has been wanting for a couple years now, however, it is on back-order. So she took a key chain instead to give him the sneak peak of his present that is yet to arrive.
A couple of months ago I decided for his birthday I would have all of his diplomas framed for him.("All?" You may be questioning. Ahh, yes! There were 4 to frame.) Thanks to the contributions of my parents and sister we were able to get the diplomas framed for him; but he has about a dozen other certificates and awards and we decided we would work on those later.
Here they are!
Top: Doctorate of Chiropractic (Logan)
Bottom Left: Bachelors in Life Science (Logan)
Bottom Middle: Bachelors in Biology (BYU-Idaho)
(We left BYU-Idaho before he graduated. He worked out a deal with Logan and BYU-I that his credits would transfer back so he could still receive his undergrad from BYU-I even though he was attending Logan. Sweet Deal!!!)
Bottom Right: Master in Nutrition and Human Performance (Logan)
I wanted to do something special with is Honor Sashes/cords so I assembled them with is tassels, cap, and medal in a shadow box. He new about the frames but had no idea about the shadow box.
Now we just have to get everything else framed! Dah!
Birthday tickles
Colby has never liked cake, so this year I was finally able to find the ingredient to make his favorite pie!!!
STRAWBERRY RHUBARB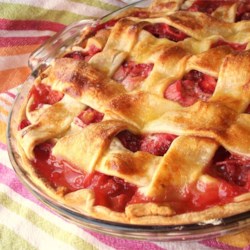 Needless to say..............He LOVED it!
A couple days later we were able to have some friends over for food and chatting to celebrate his birthday. I hope it was a good one for him! I love you babe!!!
Happy Birthday and enjoy your last year in your 20's! Ha!!!!!!!!!!!!